I am posting some of my healing arts projects and mural work to give an insight into the planning and incorporating mural work into a building space. The project below is done for the new detox building at the Hanson Foundation here in Atlantic city. This one is at a staircase the one after is at the entrance to an elevator .I also added a 360 mural in the downstairs yoga room. My goal is to provide an aesthetic uplifting space with the design work. The color on the walls of the building are chosen much the same way as in a painting. I want the space to greet and engage the viewer or passer by in a welcoming and inspiring way.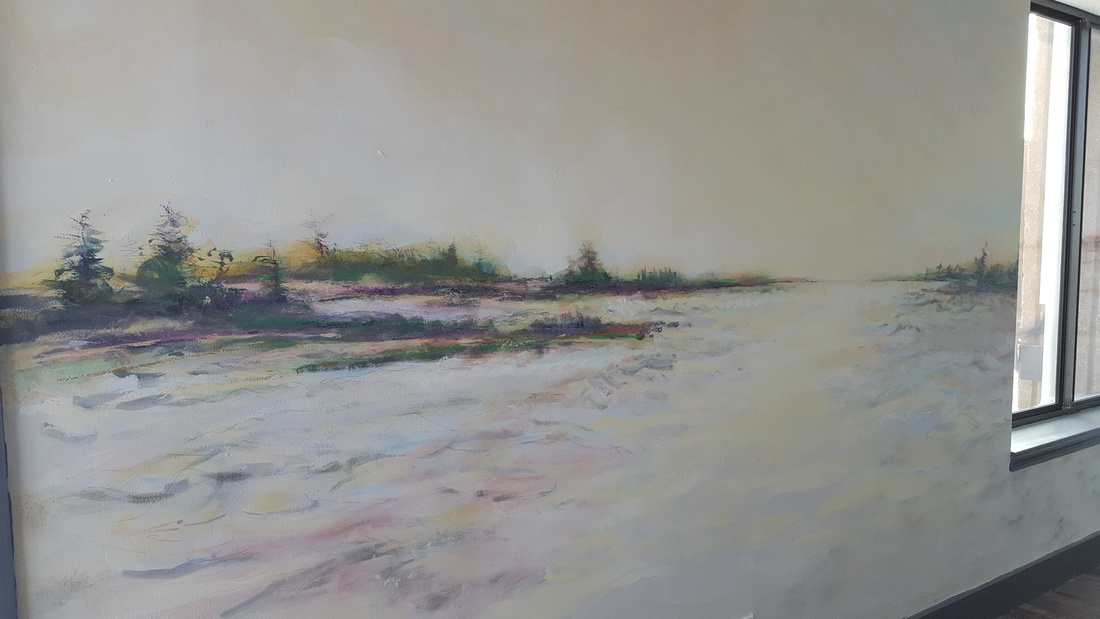 My aspiration as an artist is to connect to positive influences and to share the positive connection, via painting, with the viewer. My background as a New York-trained (Parsons) artist, and within the American contemporary impressionist style, gives me leeway to interpret the world from my view.
Steve Kuzma studied at the Philadelphia College of Art and Parsons The New School of Design in New York City. He graduated with honors from Parsons and was awarded fellowships to study overseas in Sienna, Italy and Paris, France. During his 12-year New York City illustration career, art directors were particularly fond of his work as it incorporated a strong sense of color and motion, reflecting Steve's strong interest in sports and his great love of the outdoors. The New York Times, New York Marathon, and Sport Monday commissioned his artwork and it has been featured in numerous publications including: Harper Collins "Sports Pages" (children book featured on Reading Rainbow) Sport Magazine, Time, Art Direction Magazine, Backpacker, and Boating. Steve's work has been used internationally to most notably commemorate the Olympics and the 1986 World Cup Soccer events.
In his extensive travels overseas and throughout the continental United States, Steve has developed a growing connection to nature and is profoundly inspired by beauty. This love and appreciation of nature, coupled with his deeply spiritual art, form the foundation of his unique style and sublime message. A strong sense of color and a free-flowing painterly method blend with a masterful use of layering techniques, to provide the depth and dimension inherent to all of his paintings.